Register now! The eLearning Conference will take place virtually this fall:
November 12 & 13, 2020, from 10am-12:30pm each day.
Register today! The agenda is available now. Feel free to join for the whole conference, or just join the sessions during which you are available. No matter what, register to make sure you have access!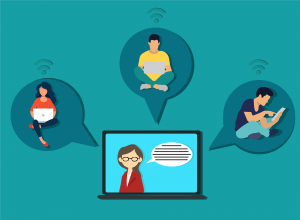 COVID-19 forced us to change how we approach teaching and learning in 2020. How have we adapted? What successes have we had? What challenges do we still face in connecting with our students virtually? Join us for a shorter, virtual version of the 7th annual Rutgers–Camden Faculty eLearning Conference to learn how Rutgers-Camden faculty have adapted and strategized during our shift to virtual teaching this year.
Who should attend?
This conference is for exclusively for Rutgers-Camden faculty. Please register and join us if you're interested in:
engaging students in classroom discussions and activities;
creating interactive communities of learners online;
trying new types of student assessments that teach as well as measure;
The Rutgers University–Camden Faculty eLearning Conference 2020 is a great opportunity for fellowship and learning. We look forward to sharing ideas with you!
Questions or comments about the conference? Please contact idt@camden.rutgers.edu.